Bryant calls for SIU president's resignation after attempt to transfer $5 million to Edwardsville campus
Apologizing for using explicit language during her point of personal privilege, Rep. Terri Bryant (R-Murphysboro) made one thing clear—Southern Illinois University (SIU) President Randy Dunn should resign immediately.
Bryant began the May 17 House floor debate detailing how she has had to deal with some positive but mostly negative SIU issues and press since joining the General Assembly. She said there was some seemingly good news when Chancellor Carlo Montemagno was hired to restructure the Carbondale campus.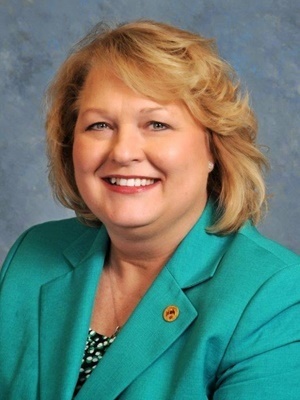 Rep. Terri Bryant (R-Murphysboro)
"But you would be wrong," Bryant said, noting soon after he was hired it was reported Montemagno and Dunn were not getting along.
Bryant said she stood up last week during perfunctory session and renounced a recent package of bills that she likes to call the "Attack SIU Package."
"That coupled with a failed plot of President Randy Dunn to divert $5 million away from SIU Carbondale have all worked to harm recruitment efforts, and the overall sense of chaos and dysfunction at the campus," Bryant said.
It only got worse, according to Bryant, who said that morning she was shown a screenshot of an email written by Dunn that was quite revealing. She continued to quote the email that showed in budget-related documents acquired through the Freedom of Information Act that Dunn actively concealed from Montemagno his plan to transfer more than $5 million from Carbondale to Edwardsville campus.
"He sought to use the fictitious 60/40 split formula to 'shut up the bitches from Carbondale'," Bryant said as she began to raise her voice. "Did you hear what I just said members? The president of Southern Illinois University was quoted saying he was doing something to split the SIU campus to shut up the bitches from Carbondale."
That was when Bryant began to speak personally to Dunn, saying "you are the president of the entire SIU system, a public university in this state."
"President Dunn, calling the people of my district, the constituents that I serve 'bitches' is not acceptable," she added.
The hard-working Illinoisans who are fighting to protect their economic engine, jobs and continued education for their children close to home, do not deserve that, according to Bryant.
"Mr. Speaker and ladies and gentlemen of the House, I stand before you as a loud proud bitcher," Bryant said. "I did it last week in perfunctory session and I am going to do it again today."
She said she hoped the media would report her next words.
"Because of his obvious and blatant disdain for constituents and SIU campus, President Dunn should resign from his position immediately," Bryant said.
Even the Democrats were appalled, with Rep. Natalie Phelps Finnie (D-Harrisburg) expressing her disappointment.
"What I read in the paper today and have learned is truly disheartening," Finnie said. "I just rise for the people of Carbondale and say I agree with Rep. Bryant that this is not acceptable talk at all."
Not as nice, Rep. Chad Hays (R-Catlin) used his point of personal privilege to tell Dunn to go to hell on behalf of all Salukis.
"I want to join the two representatives who have expressed grave concern over the message and language coming from the president of Southern Illinois system," Hays said.
He said he is appalled an email of that nature would even exist.
"I join Rep. Bryant in asking for his resignation," Hays said.
Want to get notified whenever we write about
Siu
?
Next time we write about Siu, we'll email you a link to the story. You may edit your settings or unsubscribe at any time.
Sign-up for Alerts
Organizations in this Story
More News