Gov. Bruce Rauner is bringing in a "champion" to fight for Illinoisans.
Rauner described Kristina Rasmussen, whom he recently appointed as his new chief of staff, as a vital asset as his administration works to steer itself back to the basics: serving Illinois taxpayers.
"My vision has always been for an Illinois that is prosperous and compassionate, with a state government that serves the people rather than the other way around," Rauner said. "That's Kristina's vision, too, and that's why I have appointed her my next chief of staff."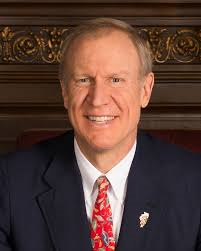 Governor Bruce Rauner
Rasmussen, president and chief operating officer of the Illinois Policy Institute, will replace Rich Goldberg, who joined Rauner's staff in January 2015 and became chief of staff a year later.
With Rauner facing re-election in 2018, the appointment of Rasmussen is seen by some as a pivot, especially in light of the recent decision by the General Assembly to override his veto of the budget package, which included a 32 percent income tax hike. Rauner had insisted that lawmakers go back to the negotiation table to work on further reforms for the state before passing a budget.
While the budget will provide funding for Illinois' most vital services, it was seen as a defeat for Rauner, who butted heads with House Speaker Michael Madigan (D-Chicago) and Democrats on essential reforms, such as in property taxes, term limits, workers' compensation and education funding.
The institute's CEO, John Tillman, said Rasmussen's expertise will bring Rauner's office a "new champion" who will fight for the taxpayers.
"Though we will miss her immensely at Illinois Policy Institute, we are thrilled that Kristina is bringing her passion for sound policy, her love of liberty, and her vision of an Illinois that is prosperous and free to the service of a governor who shares all those qualities," Tillman said. "Gov. Bruce Rauner was elected on the promise to translate those ideas into action, and his engagement of Kristina is an unmistakable signal that he intends to fulfill it."
Rasmussen joined the institute in 2009 as executive vice president and was promoted to president and chief operating officer in 2016. She is described as an expert on taxes, budget issues and free enterprise, as well as transportation and state transparency.
"Kristina has worked tirelessly to defend taxpayers over the course of her career," Rauner said in a press release. "Her record of achievement speaks for itself, both nationally and right here in the Prairie State."
Rasmussen previously served as director of government affairs for the National Taxpayers Union, where she worked to expand and broaden the organization's pro-taxpayer ideology.
Rasmussen received her master's degree in political management at George Washington University. Before that, she graduated summa cum laude at Randolph-Macon Woman's College, with a bachelor's degree in political science.