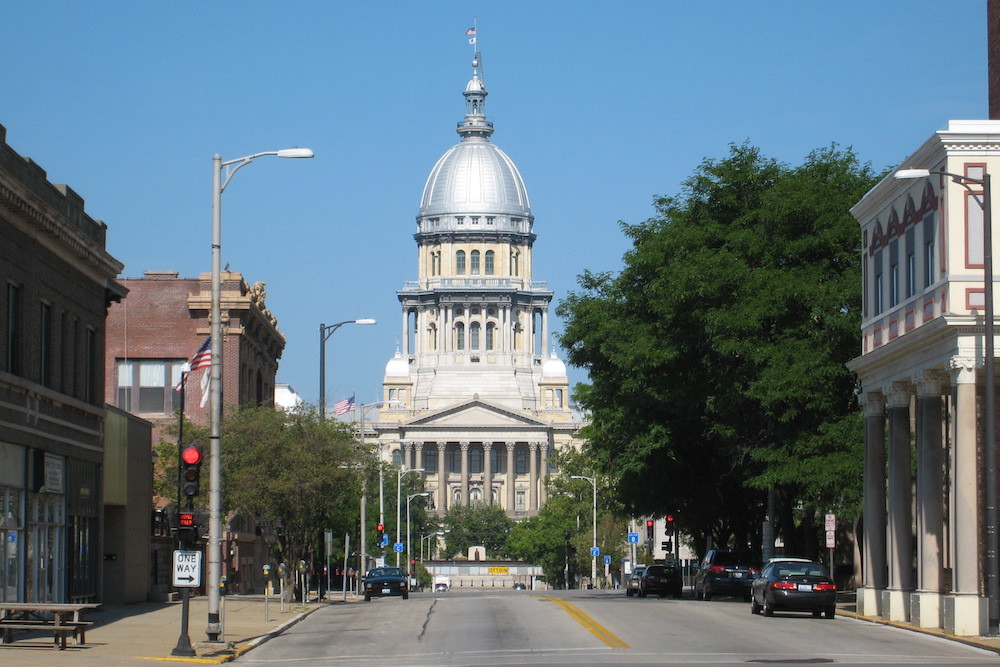 Springfield, Illinois | By Éovart Caçeir at English Wikipedia, CC BY-SA 3.0, https://commons.wikimedia.org/w/index.php?curid=10535377
Illinois has its first budget in more than two years after the House voted on Thursday to override Gov. Bruce Rauner's vetoes of three contentious bills that made it through both chambers in a special extended session.
The votes came despite fierce opposition from Republican lawmakers and a session delay in the wake of a security threat.
The late start did little to temper House Minority Leader Jim Durkin (R-Western Springs), who expected more from legislators and argued that the bills failed taxpayers.
"Is this the best that we can achieve?" Durkin asked. "Is this the best that we can deliver? Is this the best that we can accomplish for some 13 million residents of the state of Illinois? You've heard about the different responsibilities and the obligations of the state … but it should not always be predicated upon more taxpayer sacrifice."
The three overrides covered SB6, SB9 and SB42: the spending plan, the tax hike revenue bill and the budget implementation bill, respectively. In total, the bills will provide Illinois with a $36 billion spending plan as well as impose a permanent 32 percent tax increase on income and corporate taxes, raising the former to 4.95 percent from 3.75 percent and the latter to 7 percent from 5.25 percent.
Rep. David McSweeney (R-Barrington Hills) said that regardless of a budget being passed, the future of the state's bond rating is junk because no substantial reforms have been put in place.
"What we're seeing now is that if we pass this tax increase, Moody's is telling us that we are going to junk," McSweeney said. "They're giving us a road map that this state is going to junk because this budget is full of smoke and mirrors, and this budget is not going to accomplish fundamental reforms. It's not going to change pensions. It's not going to change Medicaid. What we do know for sure is that this budget is going to hurt people."
Rep. Thomas Morrison (R-Palatine) echoed McSweeney, calling Illinoisans squeezed hard by the state.
"When you look at high property taxes without reform, it will just continue to climb," Morrison said. "It's just more and more and more ... when the state of Illinois and all of our local governments run out of money, what do they do? Go back to the well; go back to the taxpayers. Squeeze a little more; squeeze a little harder. We all know it. We're squeezing so hard, we're squeezing them out."
Rep. Barbara Wheeler (R-Crystal Lake) said the squeeze is forcing people out of Illinois.
"Illinois is a slow-growth state right now," she said. "We are not competitive. Our people are hurting. Yet now we are asking our shrinking tax base to pay more taxes. A lot more. And that is without real reforms that provide direct relief. So guess what happens? We're pushing people out the door to Indiana, in my border district to Wisconsin, to Missouri, Iowa and Kentucky."
Wheeler, Morrison, McSweeney and Durkin voted against the overrides, but 10 Republicans broke rank and voted with their Democratic colleagues.
Illinois Republican Party Chairman Tim Schneider expressed deep disappointment at the GOP lawmakers who voted for the veto overrides.
"Republicans in Illinois fought Madigan's machine in 2014 to elect Gov. Rauner and won," Schneider said. "In 2016, we beat Madigan again and made historic gains in the House and the Senate. After all we have accomplished together, it is astonishing that these legislators would now turn their backs on taxpayers across the state. I am confident voters will hold those politicians accountable for choosing Mike Madigan over the people of Illinois."
Durkin said that regardless of the outcome, lawmakers must continue to work together for the future of the state.
"Our legacy must not be determined on today's action," Durkin said. "My desire is that it will be determined on what we must do together as a body in the days, weeks, months and years ahead."