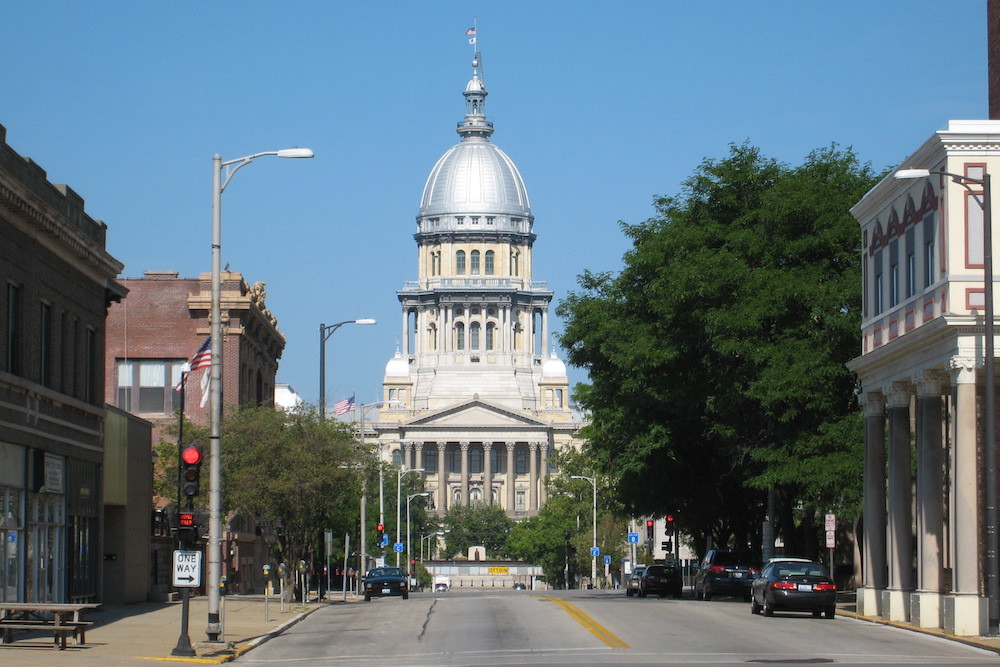 Springfield, Illinois | By Éovart Caçeir at English Wikipedia, CC BY-SA 3.0, https://commons.wikimedia.org/w/index.php?curid=10535377
In a surprise announcement, Illinois Senate Minority Leader Christine Radogno (R-Lemont) resigned her position and the Senate effective Saturday.
Her announcement comes amid a special session set to end Friday and budget talks — with which she has been heavily engaged — making little progress. She said she originally hoped to leave sooner.
"I became involved in the 'Grand Bargain,' and it was my initial hope that my natural break point would be sending my 'Grand Bargain' over to the House," Radogno, 64, said at a press conference. "As you all know, that didn't happen, but I wanted to continue and stay and try to get a resolution because I understand that the state is in a very difficult spot. I decided to stay until May 31. Obviously, we flipped into special session, but there were still discussions going on, and I thought the next natural break is the end of the fiscal year. The end of the fiscal year is here, and I'm not sure that there is another natural break coming anytime soon."

Senate Republican Leader Christine Radogno (R-Lemont)
Her resignation comes at a precarious time, as lawmakers remain at odds on a budget and reforms for the state. Democrats presented their version of a budget earlier this week, but it has yet to be voted on in the House.
Gov. Bruce Rauner has threatened to keep lawmakers on the clock past Friday to prevent Illinois from facing a third year without a budget.
Radogno said she isn't resigning because of the lack of budget progress.
"I can expel that unequivocally," Radogno said. "I was disappointed … that it didn't happen. If that was my motivation, I would have been gone then. I really wanted to continue to try to deal with the hand we've been dealt and try to get to a place where we have the agreement."
Regardless of the tense stalemate, Radogno said she is proud of the work that has been done in Springfield but ready to move on.
"I feel positive about the work that I've done," she said. "I feel positive about all the efforts that have been put in by the governor and by all four leaders. Every single person has contributed, I think, to where this state, I hope, goes eventually. The fact of the matter is that I am ready to focus on my personal life."
She said her biggest concern about leaving office is the transitional logistics, which she hoped would be a speedy and orderly process.
"Whenever this is resolved, whether it is tomorrow night ... or whether it's next week or next month, I wish everybody involved, especially the people of Illinois, success and that we can get back on track and become once again the great state we have the potential to be," she said.
Radogno said she'll continue to work hard on the budget before ending her tenure. She has served in the Illinois Senate since 1997 and became the first woman to lead a political party in the Illinois General Assembly. She is in her third term as minority leader — a role she took over in 2008.
She said she plans to spend her retirement with her family and traveling.
Potential Senate leader replacements have already expressed interest and include Sens. Karen McConnaughay (R-St. Charles), Bill Brady (R-Bloomington) and Dan McConchie (R-Hawthorn Woods).
Local Republican Party chairmen will determine who fills the Senate seat vacated by Radogno. Two-thirds of her seat is in DuPage County and a third is in Cook and Will counties.
Candidates to fill Radogno's seat include DuPage County Board members John Curran and Gary Grasso, who formerly served as Burr Ridge mayor, and Willowbrook Mayor Frank Trilla.