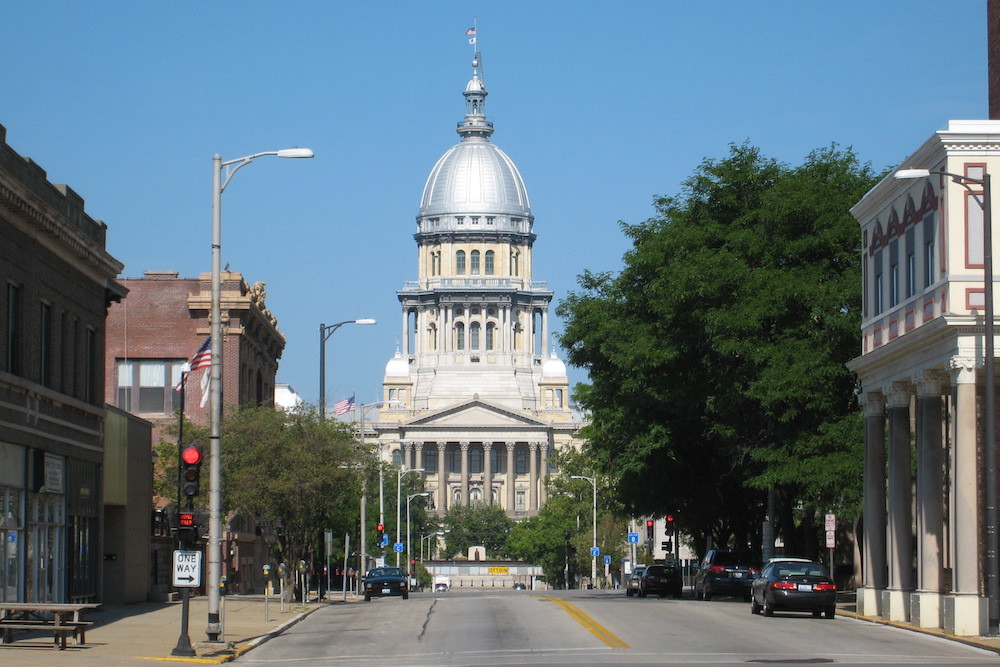 Springfield, Illinois | By Éovart Caçeir at English Wikipedia, CC BY-SA 3.0, https://commons.wikimedia.org/w/index.php?curid=10535377
A former member of the Illinois Senate is suing the state's comptroller to get money he claims was denied him during a decade in office — even though he voted for the measure he now claims is illegal.
Michael Noland, an Elgin Democrat, served as a state senator representing the 22nd District from 2007 through January 2017. In a complaint filed June 1 in Cook County Circuit Court, Noland said he was deprived on income through both mid-term furlough days and legislation that eliminated cost-of-living increases from 2009 and 2016.
Noland argued the 1970 state constitution expressly prohibits changes to legislators' salaries during their terms of office, and said the bills the General Assembly enacted to impose unpaid time off and halt inflation increases violate that clause. He is asking the court to force Illinois Comptroller Susan Mendoza to pay Noland and all other lawmakers the full salaries to which they were entitled for the years they were in office.

Mike Noland
The relevant language in the 1970 Constitution is from Article IV, Section 11, regarding compensation and allowances: "A member (of the General Assembly) shall receive a salary and allowances as provided by law, but changes in the salary of a member shall not take effect during the term for which he has been elected."
Noland — elected to four year-terms in 2007 and 2013 and a two-year term in 2011 — also cited the 1990 report of the Compensation Review Board calling for automatic cost-of-living adjustments for legislators and other public officials at the start of each new fiscal year. Noland, who did not seek a fourth state Senate term in 2016, received cost-of-living bumps only in 2007 and 2008.
The state legislature passed its first bill eliminating the automatic increase in 2009 with an effective date of July 1, 2009, then did so each year through 2016. Also in 2009, state lawmakers enacted a bill forcing legislators to lose 12 days of pay in the fiscal year ending June 30, 2010. Subsequent furlough legislation through 2013 forced lawmakers into six or 12 unpaid days off during each fiscal year. Noland said he lost a total of 48 days of work.
"The comptroller's duty to issue the payments is both nondiscretionary, because it is mandated by the Illinois Constitution and by state law, and ministerial," Noland stated. He called on the court to issue a writ of mandamus directing Mendoza to pay him and all other affected lawmakers as well as to inform such parties "they can choose to opt out of payments of the withheld COLAs, thereby donation all or some of the withheld COLA payments back to the state." Noland called for the same enforcement and opt-out offer for the furlough days.
On March 31, 2012, the Illinois Senate Democrats issued a press release in support of the plan to eliminate legislative pay raises for the next two fiscal years. The statement included a quote from Noland backing the bill's passage:
"The truth is that we are not spending enough in almost every part of the state budget," Noland said at the time. "We have the fifth largest economy in the nation, 20th or so in the world, yet we rank 50th in per capita spending — that's last in the United States. We need structural tax reform to properly fund our most important priorities — like education, health care and the ongoing need for infrastructure. Until we do this, the least we can do is cut our own pay again. I know most working families in Illinois are not seeing raises this year, so we shouldn't either."
Mendoza was not comptroller during the indicated time period; she was elected to her first term in November 2016 and took the oath of office in January.
Representing Noland in the matter is Michael J. Scotti III, a special assistant attorney general with Roetzel & Andress LPA, Chicago.