Jackson County Board of Trustees met June 20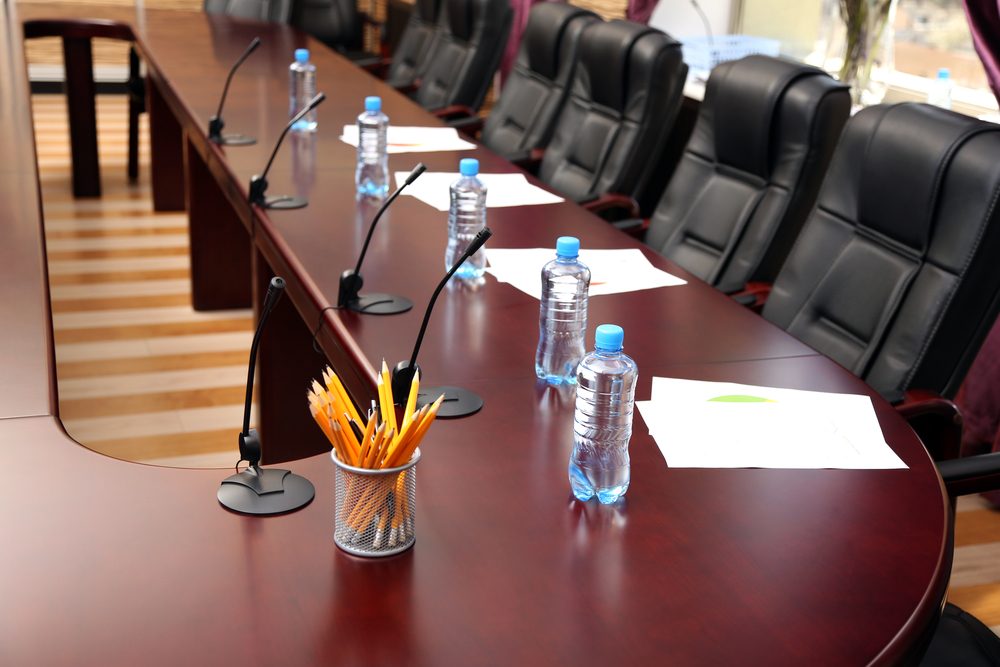 Jackson County Board of Trustees met June 20.
Here is the agenda as provided by the board:
Invocation
Call to Order
Pledge of Allegiance
Roll Call
Recognition of Visitors
Citizen Comments
Communications
Agency Reports
Chairman Report
I. 17-2564 Resolution 2017-22 in Appreciation of Miriam Link-Mullison
Approval of Consent Agenda
II. 17-2565 May 23, 2017 Minutes
III. 17-2566 Payment of Health Insurance Claims in the amount of $166,505.53
IV. 17-2567 Payment of County Monthly Claims in the amount of $347,127.58
V. 17-2568 Payment of Board Members' Travel Reimbursement in the amount of $3,334.71
VI. 17-2569 Acceptance of bid from Foster Coach Sales Inc. for Mercedes Sprinter with power cot
Ambulance in the amount of $105,674.50
VII. 17-2570 Payment of Ambulance Service Monthly Claims in the amount of $42,123.22
VIII. 17-2571 Payment of Highway Monthly Claims in the amount of $63,849.37
IX. 17-2572 Federal Aid Agreement Amendment #1-Reed Station Road Section 09-00152-00-SP
X. 17-2573 Declaration of 2005 Alamo VB20E Mower Serial #06706 a s surplus property
XI. 17-2574 Acceptance of Worthen Construction bid for repair to Crane Building awning posts in the
amount of $4,175.00
XII. 17-2575 Acceptance of KONE Elevator Maintenance Contract for the Courthouse and Jail
XIII. 17-2576 Approval of contract for Fire Alarm/Sprinkler Replacement for the Courthouse
XIV. 17-2577 Approval of the contract for Fire Alarm/Sprinkler Replacement for the Jackson County Sheriff's
Department
XV. 17-2578 Approval of the Fire Alarm Replacement for the Courthouse and Sheriff's Department
Standing Committee Reports
Executive Committee
Finance & Administration Committee
XVI. 17-2581 County Pay Period adjustment with loan option or cash in accrued time option
Real Property Committee
XVII. 17-2582 Mass Transit Report-Bill Jung and Ted Gutierrez
XVIII. 17-2583 Acceptance of ABF Security Panic Alarm System for the Courthouse in the amount of
$11,125.00
Legislative & Public Safety Committee
Special Committee Reports
Executive Session
XIX. 17-2584 Executive Session under 2 (c) (1) (2) & (11) of the Open Meetings Act to discuss the selection
and hiring of the Deputy Director of the JCEMA; to discuss pending litigation, collective
bargaining and grievances
Old Business
New Business
XX. 17-2579 Resolution 2017-21 Prevailing Wage Resolution
XXI. 17-2580 Intergovernmental Cooperation Agreement Supporting a Four-Lane Road/Highway Connection
to the St. Louis Area
XXII. 17-2585 COPS Grant
XXIII. 17-2586 Stand-By authorization to Permit Board of Review to engage Real Estate Appraiser for the
Grand Tower Power Plant assessment appeal not to exceed a cost of $50,000
Recess
http://www.jacksoncounty-il.gov/Home/Components/MeetingsManager/MeetingAgenda/ShowPrimaryDocument/?agendaID=1494&isPub=True&includeTrash=False
Want to get notified whenever we write about
Jackson County Board of Trustees
?
Next time we write about Jackson County Board of Trustees, we'll email you a link to the story. You may edit your settings or unsubscribe at any time.
Sign-up for Alerts
Organizations in this Story
Jackson County Board of Trustees
More News