Jackson County Legislative and Public Safety Committee met August 15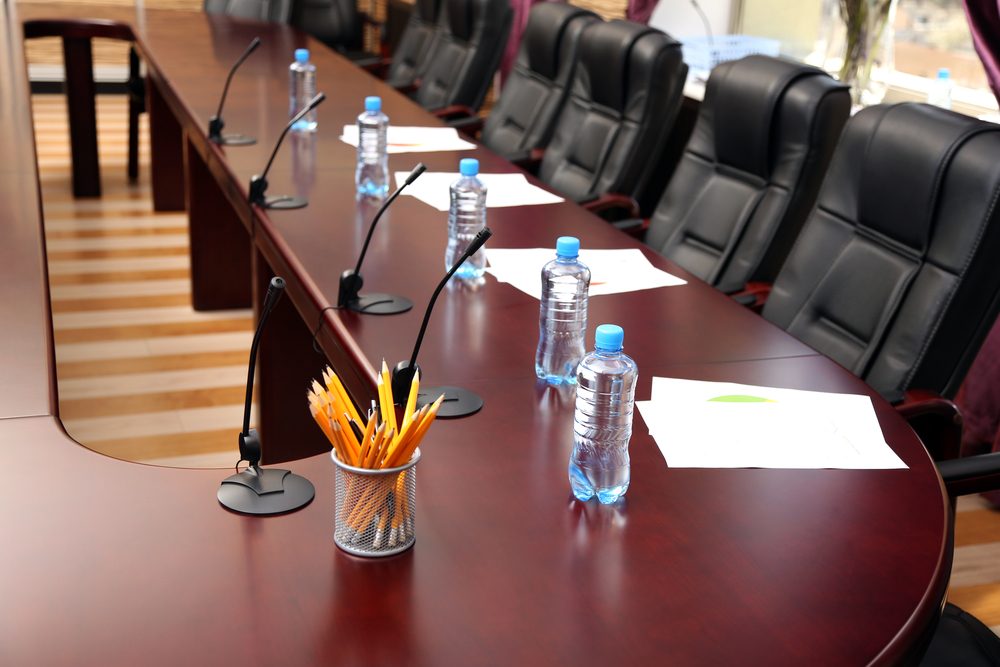 Jackson County Legislative and Public Safety Committee met August 15.
Here is the minutes as provided by the committee:
Call to Order (5:00 PM)
Members Present: Burke, Comparato, D. Bost, Larkin, Maxwell, Mendoza, Jr. and Mueller
Also Present: Andrew Erbes, Dan Brenner, Lloyd Nelson, Sarah Patrick, Kerri Gale, Derek Misener, Gary Schaffer, William D. To dd, Matt Bernhardt
Approval of Minutes
I. 17-2706 July 11, 2017
A motion was made by Comparato, seconded by Maxwell, to approve the July 11, 2017 minutes
as presented. The motion carried by unanimous vote.
Health Department & Solid Waste
II. 17-2707 Jackson County Health Department
Patrick reported that the $3.7 million dollar Health Department budget has been
approved. The Board of Health will continue to monitor the budget to see if the Health
Department can go back to a 35 hour work week. The Little Free Library in the WIC clinic
waiting area is very popular and helps address a social determinant of health (literacy); 51
children were seen on dental day supported by SIU dental hygiene students. The Health
Department will be open for Environmental Health inspections, Public Information, and
Incident Command functions the weekend of the eclipse. Over 30 temporary food vendors and
9 temporary campgrounds are scheduled for inspection starting on the 16th. Comparato asked
when the Opiod Discussion is scheduled for; September 12th at 5:30pm at the Carbondale Civic
Center. Mueller informed the committee that a congressional candidate will be speaking at the
Plumbers & Pipefitters Hall on August 17th at 5pm about the Opiod epidemic.
III. 17-2708 Solid Waste Enforcement
Gale reported that the new inspector is working with a certified employee until she gets
certified. They did 17 inspections 14 of which were revisits.
IV. 17-2709 Solid Waste Fund Update
Gale reported that there is a bit of an issue with the new financial software program and the
amounts are off. She will have an updated report at the September meeting.
V. 17-2710 Solid Waste Management Plan Update
Gale reported that she should have an updated plan for the committee to review at the
September meeting.
VI. 17-2711 Recycling Program
Gale reported that in a few weeks she will begin enrolling schools in the educational program
and she is working with the Sheriff Department on scheduling a Shred/Med day in November.
Emergency Management
VII. 17-2723 Emergency Management Assistance Grant/Emergency Management Performance Grant
Application & Authorization
Misener informed the committee that he received notice about the Emergency Management
Assistance/Emergency Management Performance Grant. He requested that the committee give
him authorization to apply for the grant and request the Chairman to sign the agreement.
A motion was made by Maxwell, seconded by Mueller, to authorize the Ambulance Director to
apply for the Emergency Management Assistance/Emergency Management Performance Grant
and authorize the Chairman to sign the agreement. The motion carried by unanimous vote.
Ambulance Service
VIII. 17-2712 Approval for eCore Software License Agreement (SLA) for scheduling and payroll
Misener spoke to the committee about the Ambulance Department's need for a scheduling and
payroll program. He told the committee that they have not had time clocks for several years
but they are a necessary thing. The eCore software combines scheduling and payroll and is
made for emergency personnel hours. This software will cost $232 a month with an initial $75
set up fee; it is a month to month contract that can be cancelled anytime. Comparato asked
Misener if he has money in his budget to cover the cost; Misener said yes. Larkin inquired
about if this would affect bargaining units and if there is a policy in place about employees
starting or ending early or late. Misener stated that he has not officially talked with the
union. Brenner suggested that Misener notify the Union in writing at least ten days before
implementing the software. Larkin asked that Misener bring the aforementioned policy to the
committee for review.
A motion was made by Comparato, seconded by Maxwell, to authorize the Ambulance Director
to execute the eCore Software License Agreement pending State's Attorney's Office approval.
The motion carried by unanimous vote.
IX. 17-2713 Quote for Communications Tower Fence Replacement
Misener presented the committee with a bid for clean up and repair to the fence around the
communications tower. The current wood fence was built in 2000 and now has vegetation
grown around it to the point that the fence needs repaired. Larkin asked why it was a wood
fence and not chain link; Misener does not know why wood was chosen. The consensus of the
committee is to ask Brenner to work with Misener to draft an RFP that addresses the clean up
and a bid for a 10 food chain link fence that meets all security requirements.
X. 17-2714 Ambulance Monthly Claims
A motion was made by Maxwell, seconded by Comparato, to approve the Ambulance
Department monthly claims in the amount $39,688.78. The motion carried by unanimous vote.
XI. 17-2715 Ambulance Director's Report
a. Accounts Receivable Cash
b. Activity Report
Misener reported that there is $298,353.12 in accounts receivable cash, this amount includes a
past due payment from medicaid. He informed the committee that there were 781 calls and
629 transports in July.
Legislative
XII. 17-2718 Firework Permit
Todd spoke to the committee about a firework display that he would like to have on his
property on August 21, 2017. He is asking the committee for approval to have a fireworks
show. D. Bost asked if it was going to be on his personal property and if he had a permit from
the State of Illinois; Todd replied yes to both questions. Jackson County has not ordinance
relating to fireworks so the committee does not need to do anything. Todd stated that he
needs a signature for the firework company. Brenner suggested a letter informing the
company that Jackson County does not have a firework ordinance.
A motion was made by D. Bost, seconded by Mendoza, Jr., to authorize the Committee Chair to
sign a letter stating that Jackson County does not have a firework ordinance and that the
committee is aware of the firework show taking place on August 21, 2017. The motion carried
by unanimous vote.
XIII. 17-2716 Animal Control
Larkin turned the meeting over to Burke to discuss this issue. She began by stating that the
contract with the Humane Society needs to be updated. Brenner said he agreed; he presented
an update to the committee several years ago with no substantive changes it is just
modernizing the language from the original contract he can update that and have it ready for
the committee at the next meeting. Larkin suggested developing an RFP for getting bids on the
services that the Humane Society provides plus including a section stating that they have to
work with other organizations in the county. Brenner asked if the committee wanted to bid the
entire Animal Control contract and was told yes. Larkin asked Brenner to get the RFP to the
committee at least a week before the September meeting so they could review it. Burke asked
Nelson if he had a computer and email address. Nelson replied that there is not money in his
budget for a computer but that IT could set him up an email address any time. Burke wants
citizens and board members to be able to email complaints to Nelson and get a quick
response. She went on to say that she would like Nelson to come up with some community
outreach ideas for letting the citizens know about rabies clinics, the need to spay and neuter
and where they can take or get animals from. The consensus of the committee is to have
Nelson put the cost of a new computer into his FY18 budget and until then he should use the
computer in the County Board office to check his email. Burke then went on to ask Nelson to
explain to the committee the recent cat issue he dealt with. Nelson informed the committee
that a citizen voluntarily gave up about 45 cats and he took them to the Humane Society and
notified the State of Illinois of the situation. Nelson then informed the committee about how
tag fees are collected and the difference between a tag fee and a registration fee.
XIV. 17-2717 Unmanned Aircraft Ordinance
Schaffer began by complimenting Brenner on drafting the model ordinance. The committee
reviewed the ordinance and asked some questions of both Schaffer and Brenner.
A motion was made by Mueller, seconded by Maxwell, to approve the adoption of the
Ordinance to Regulate the Operation of Unmanned Aircraft Systems near the Southern Illinois
Airport. The motion carried by unanimous vote.
Citizen Comments
Old Business
New Business
Adjourn (5:59 PM)
Mueller moved and Burke seconded to adjourn, motion carried.
http://www.jacksoncounty-il.gov/Home/Components/MeetingsManager/MeetingMinutes/ShowPrimaryDocument/?minutesID=1451&isPub=True&includeTrash=False
Want to get notified whenever we write about
Jackson County Legislative and Public Safety Committee
?
Next time we write about Jackson County Legislative and Public Safety Committee, we'll email you a link to the story. You may edit your settings or unsubscribe at any time.
Sign-up for Alerts
Organizations in this Story
Jackson County Legislative and Public Safety Committee
More News