Jackson County Board set to make several appointments to county boards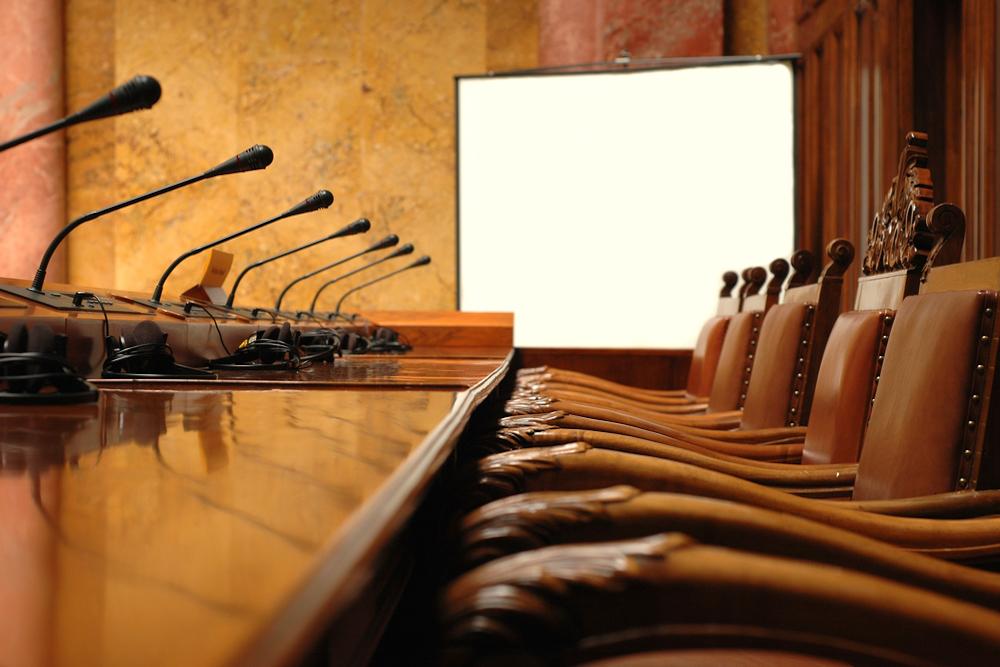 Jackson County Board will meet at 6 p.m. Tuesday, Dec. 20.
The County Board consists of 14 members that are elected from seven districts and govern the county in accordance with formal bylaws and state statute. The board meets to administer county activities and enact ordinances and resolutions into law.
Here is the agenda as provided by Jackson County:
COUNTY BOARD MEETING
TUESDAY, DECEMBER 20, 2016 6:00 PM
JACKSON COUNTY COURTHOUSE
Invocation
Call to Order
Pledge of Allegiance
Roll Call
Recognition of Visitors
Citizen Comments
Communications
Agency Reports
Chairman Report
I. 16-2017 Informal Meeting-County Board Orientation: Waiving of Informal Meeting Time Requirements
Approval of Consent Agenda
II. 16-2018 November 15, 2016 Minutes
November 15, 2016 Budget Minutes
December 5, 2016 Minutes
III. 16-2019 Ordinance 2016-10 for Compliance with the Local Government Travel Expense Control Act
IV. 16-2020 County Board Credit Card Policy
V. 16-2021 Payment of Health Insurance Claims in the amount of $324,309.57
VI. 16-2022 DTR 2016-51 thru 2016-85
a. DTR 2016-51-Parcel #05-05-301-004
b. DTR 2016-52-Parcel #05-05-383-007
c. DTR 2016-53-Parcel #06-21-105-004
d. DTR 2016-54-Parcel #13-30-331-001
e. DTR 2016-55-Parcel #13-30-331-012
f. DTR 2016-56-Parcel #14-03-456-010
g. DTR 2016-57-Parcel #14-04-338-013
h. DTR 2016-58-Parcel #14-04-338-015
i. DTR 2016-59-Parcel #14-04-357-015
j. DTR 2016-60-Parcel #14-04-393-002
k. DTR 2016-61-Parcel #14-04-397-009
l. DTR 2016-62-Parcel #14-04-402-008
m. DTR 2016-63-Parcel #14-04-405-014
n. DTR 2016-64-Parcel #14-08-131-012
o. DTR 2016-65-Parcel #14-08-204-018
p. DTR 2016-66-Parcel #14-09-105-001
q. DTR 2016-67-Parcel #14-09-106-015
r. DTR 2016-68-Parcel #14-09-106-030
s. DTR 2016-69-Parcel #15-15-152-007, 015
t. DTR 2016-70-Parcel #15-15-154-010
u. DTR 2016-71-Parcel #15-15-155-004
v. DTR 2016-72-Parcel #15-15-160-024
w. DTR 2016-73-Parcel #15-16-276-004, 005
x. DTR 2016-74-Parcel #15-16-281-011
y. DTR 2016-75-Parcel #15-16-404-008
z. DTR 2016-76-Parcel #15-16-458-006
aa. DTR 2016-77-Parcel #16-25-253-027
bb. DTR 2016-78-Parcel #19-17-201-007
cc. DTR 2016-79-Parcel #19-27-355-036
dd. DTR 2016-80-Parcel #05-15-725-004
ee. DTR 2016-81-Parcel #05-36-751-002
ff. DTR 2016-82-Parcel #15-16-228-012
gg. DTR 2016-83-Parcel #14-05-406-002
hh. DTR 2016-84-Parcel #14-04-393-003
ii. DTR 2016-85-Parcel #14-10-127-012
VII. 16-2023 Payment of County Monthly claims $1,017,613.89
VIII. 16-2024 Engage Kerber, Eck and Braeckel as FY16 Auditor
IX. 16-2025 Clearwave Service Proposal
X. 16-2026 Payment of Highway Monthly Claims in the amount of $194,967.08
XI. 16-2027 Resolution 2016-87 County Maintenance Resolution
XII. 16-2028 Acceptance and Approval of Proposal to Furnish Gasoline and Diesel Fuel Delivery
XIII. 16-2029 Request for Matching Funds-Degognia Township
XIV. 16-2030 West Courthouse Steps Change Notice and Payment
XV. 16-2031 Payment of Ambulance Service Monthly Claims in the amount of $32,627.43
XVI. 16-2032 Resolution 2016-86 Appellate Prosecutor
Standing Committee Reports
Executive Committee
XVII. 16-2033 708 Mental Health Board Appointment-Hunter
708 Mental Health Board Appointment-Clark
708 Mental Health Board Appointment-St. Julian
XVIII. 16-2034 Jackson County Board of Health Appointment-County Board Representative
XIX. 16-2035 Crosswalk Community Action Agency Appointment-Jorgenson
XX. 16-2036 ETSB 911 Appointment-Sanders
XXI. 16-2037 Greater Egypt Regional Planning & Development Commission Appointment-Hopkins
XXII. 16-2038 Jackson County Mass Transit Appointment-Metcalf
XXIII. 16-2039 Oraville Water District Appointment-Deuel
Finance & Administration Committee
Real Property Committee
XXIV. 16-2040 Funding for Maintenance of Delinquent Properties
Legislative & Public Safety Committee
Special Committee Reports
Executive Session
XXV. 16-2041 Executive Session under 2(c) 2 & 11 under the Illinois Open Meetings Act to discuss collective bargaining matters, resolution of a grievance arbitration matter and litigation
Old Business
New Business
Recess
Want to get notified whenever we write about
Jackson County Board of Trustees
?
Next time we write about Jackson County Board of Trustees, we'll email you a link to the story. You may edit your settings or unsubscribe at any time.
Sign-up for Alerts
Organizations in this Story
Jackson County Board of Trustees
More News